Do you struggle to keep your head scarf in place throughout the day? As someone who works full time for several years now I have learned a few ways on how to make my life as a hijabi easier. I'm sharing with you useful hijab tips and tricks to keep your scarf in place so that you can remain modest and focus on accomplishing your tasks for the day.
1. Tie up your hair loosely to prevent headache.
We start with our hair. Make sure your hair is dry when you tie it up or twist it in a bun under your scarf. Whether using your recycled stocking as a hair tie (I'll get to this in a minute) or using a scrunchie, avoid securing your hair tightly. It is important to opt for a scrunchie that is very elastic because this will keep your hair up all day long in that hijab.
The more elasticity, the less resistance on the hair. It is advised to first try the scrunchie on your wrist. If the grip is too tight, the scrunchie is not suitable for you. Ideally the scrunchie should grip your wrist perfectly.
Read More About Hair Care for Hijabis
2. Recycle torn stockings and make them hair ties.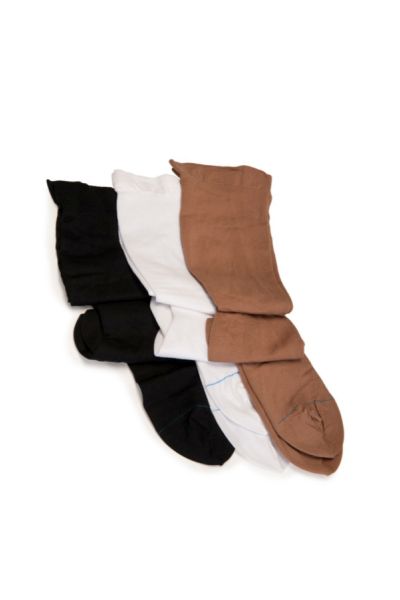 Yep, no need to spend money on scrunchies! Almost every woman has an old or ripped socks and stockings. All you need to do is get a pair of scissors and cut the elastic top part off. Not only have you created a hair tie, it's the type that doesn't hurt your head, too!
3. Under cap is your scarf's best friend.
I always wear a cotton under scarf. As a Muslim woman it is extremely important that my hair doesn't show. I often wear the scarf the entire day and the under scarf helps keep my hair and scarf in place. The last thing I want to do at work is keep adjusting my scarf!
Use cotton jersey under your scarf to allow the scalp to breathe properly. I personally prefer the tube-style under cap. The more elastic your inner is, the more likely for you to find comfort. These under scarves come in a variety of styles and colours.
4. Use proper pins to secure your scarf.
Pin your scarf to keep everything in place. No matter the fabric or style of your scarf, if it is not pinned properly, everything is going to eventually fall apart and look clumsy as the day proceeds. Moreover it doesn't look nice to keep touching and fixing your scarf when talking to someone, during meetings, or when you are doing a presentation. So, load up on hijab pins!
Don't use a regular safety pin—it will snag and damage your scarf. Opt for one of those plastic pins shown in the picture above. Place the scarf over your head, fold fabric over the ears, bring them together and tuck them under your chin, secure with a plastic safety pin. Your scarf is now secure and you may style it however you want! Use a straight pin for additional support.
Declutter your hijab pins frequently. Discard rusty or blunt pins. Heads of pins that have lost their colourful coating can be painted with nailpolish to match your scarf.
5. Own hijabs for both casual and formal occasions.
You may have a lot of cozy, easy to manage scarves for every day use. However, treat yourself and splurge on fancy and  elegant scarves with good fabric for formal occasions. You've gotta have something for every occasion! Go ahead and do some shopping. For busy women, this is our investment to look good and put together. Trust me, it's going to pay off.
Asateer Scarves was born out of the need to wear premium scarves to look our best and maintain modesty. Each scarf collection is carefully curated and extensively tested to suit your busy lifestyle.
Always remember the purpose of wearing the hijab.
The essence of hijab is following Allah's command for us to maintain modesty. It is crucial that our outfit covers our body properly. Each one of us have our own discovery and struggles with hijab, and we're at different phases of that journey. Learn what observing the hijab means to you.
I hope you try these useful hijab tips and tricks. Let me know if they work for you!
Love & duas,
Nadia